San Francisco's best-kept secret is a stone's throw and steps away–where sand, sun, and island simplicity coalesce for a perfect daily retreat. This sandy paradise nestled between Treasure Island and Yerba Buena Island is known as Clipper Cove. Named after Pan Am's clipper ships, and originally used as a terminus for airplanes, residents of Yerba Buena Island now have the luxury of calling this their neighborhood oasis.
With quiet waters and sandy shores, this cove offers a serene refuge from the faster pace of city life. Balance your commute to downtown San Francisco with a walk to the beach. Start your days with breathtaking views of the horizon or end your evenings with a sunset swim. And the best part? You don't have to venture far to experience it all.
Residents of Yerba Buena Island can immerse themselves in a range of activities that promote wellness, rejuvenation, connection, and, most importantly, fun. Whether you're yearning for a peaceful retreat or craving a new adventure, Clipper Cove has something for everyone.
To help you make the most out of your Clipper Cove experience, here's a peek at all the things you can do in San Francisco's hidden paradise:
Paddleboard or Kayak
Soak in the serenity of the surroundings as you paddle or kayak across the Bay on the peaceful waters. Grab your paddle, embrace the adventure, and let Clipper Cove become your gateway to exploring the sea.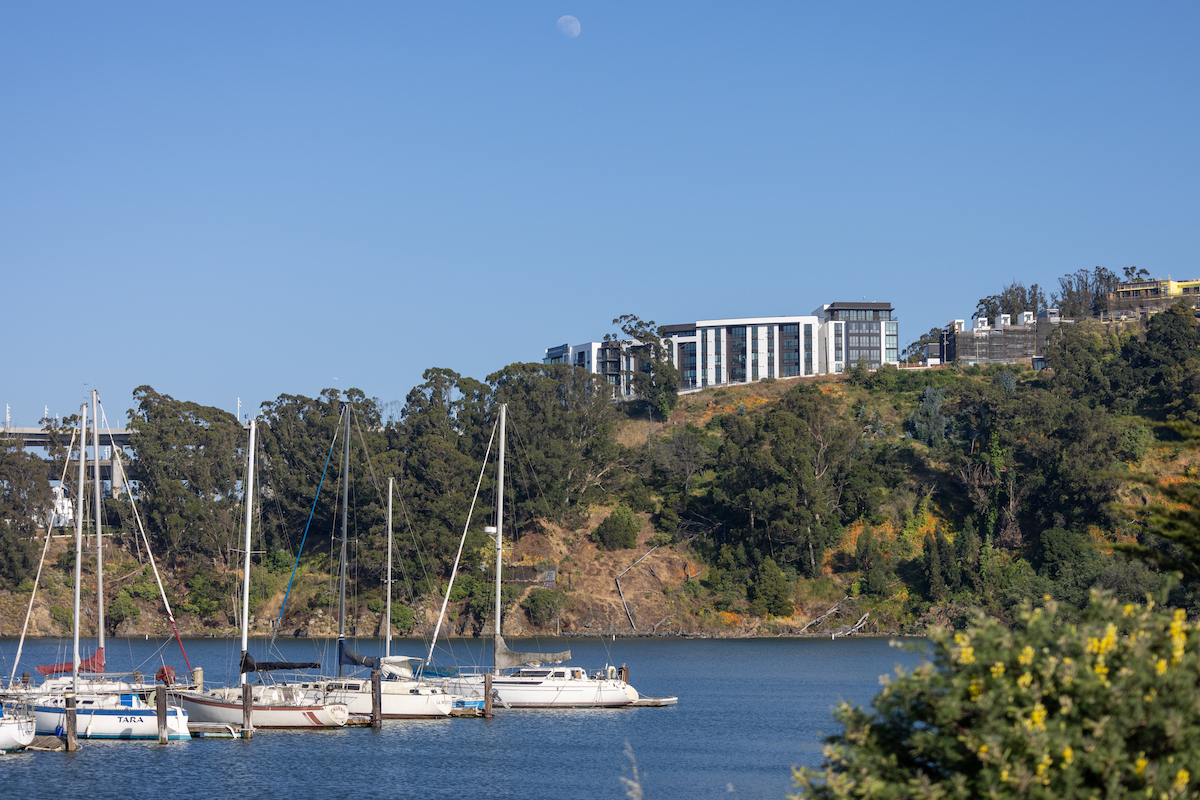 Sail Around the Cove
Because of the steady winds from the west, and minimal current, Clipper Cove emerges as a haven for sailing enthusiasts. Whether you're a seasoned sailor or a nautical novice, the soothing breeze and predictable conditions of Clipper Cove offer a perfect setting to embark on seabound adventures. See anchorage tips here. Also, find sailing lessons and rentals at the local nonprofit Treasure Island Sailing Center.
Enjoy a Beach Picnic
Set course for the perfect beach picnic destination just steps away from the Residences. Pack your favorite bites and grab picnic essentials from Aracely Cafe or Island Cove Market, the local grocery store on nearby Treasure Island. Set up your picnic and savor your treats while enjoying the panoramic coastal scenery. Post-picnic, engage in beach games, go for a swim, or stroll along the serene shoreline.
Have a Pup Playdate
This coastal spot is a haven where dogs can run, swim, socialize, and bask in the sun alongside their owners. As a dog-friendly beach, Clipper Cove allows your furry companion to explore, play, and chase a seagull or two.
Seaside Yoga Flow
There's nothing better than practicing a vinyasa flow with the sound of gentle waves and a cool sea breeze. Set up your yoga practice overlooking the shore and feel the soft sand beneath you for a transformative experience. Connect with the earth's energy as you flow and harmonize your mind and body with nature.
Beachside Birdwatching
Immerse yourself in the environment and gaze into the skies above. This coastal space attracts many species that call Yerba Buena Island home. Some native birds in the area to look out for: Western Meadowlarks, Western Bluebirds, American White Pelicans, Great Blue Herons, and more.
Clipper Cove Beach provides a world of serenity, all within reach of the nearby vibrant city life that makes living at Yerba Buena Island so unique. The next time you yearn for a break from the city, walk or bike down to your new favorite hidden beach. Let the warm sands and calm waters of Clipper Cove transport you to a place of peace and tranquility.