Tim takes us on a journey through his architectural career, from his childhood and college experiences living abroad to his design philosophy that has shaped his work on the island. With a track record of successful projects, including Alys Beach Club and Palmetto Bluff, Tim Slattery brings a wealth of experience to the collaborative team that spearheaded the creation of The Bristol, The Townhomes, and The Flats—the new homes in the Yerba Buena Island community. In conversation, Tim shares his insights on creating a sense of community reminiscent of a European village, the integration of open spaces, and the unique elements that make Yerba Buena Island truly distinctive. Tim exudes a passion for his work on the island, so much so that he's also become an owner at The Bristol. Join us as we explore Tim Slattery's personal connection to the island and discover why he thinks Yerba Buena Island is "like living in a painting."
Yerba Buena Island: Tim, take us back to the beginning of your journey. What sparked your interest in architecture, and how did you get started?
Tim Slattery: I lived in Spain when I was a child, and what I remember most was the idea of living in a city and being in open outdoor spaces and piazzas in Madrid. I was influenced by the idea of living in a big city from a young age. My family and I also traveled to places on weekends–we'd go to Switzerland and castles. I feel like that locked architecture in for me–it showed me what architecture can do and mean.
I'd love to talk more about how you brought that European design and those values into your projects and, specifically, into your work on Yerba Buena Island.
TS: Part of it was attending the University of Notre Dame for architecture school. I had a classically based education, spending a year in Rome during my junior year, which deeply influenced my appreciation for European architecture. This classical foundation became crucial in shaping my approach to architecture.
When it comes to Yerba Buena Island, two significant influences shaped our design. Firstly, our experience with complex sites like resorts and ski mountains informed our site design and topography approach. Secondly, we reinterpreted classical architecture with a modern expression, focusing on capturing the breathtaking views prevalent on the island. This emphasis on views translated into expansive windows, carefully composed to evoke a classic proportion and scale while maintaining a serene aesthetic. The intent was for the island itself to be the icon, not the architecture, reflected in the muted palette harmonizing with the rolling hills.
Lastly, the integration of the open space network is a crucial aspect. Although not fully apparent now, the Garden Courtyard in The Bristol will eventually connect to the Piazza and the park, weaving and connecting seamlessly within the island's landscape.
Can you tell us about your approach to designing Yerba Buena Island and shaping The Bristol, The Townhomes, and The Flats to create a sense of community and feel reminiscent of a European village?
TS: The Bristol Lobby is like a garden conservatory or a pavilion in a park. It's not so much a lobby as it is a portal that connects to the Garden Courtyard, which drops down to the Piazza. You'll have a lot of community events happening in the Lobby that will eventually carry up to the street. The internal street is quieter, so you could imagine them blocking off that area for a street fair or community events. When you open the doors to the right, you see the Golden Gate Bridge. But to the left, you look down on this whole Piazza, and to me, that has a very European feel where everybody can open their doors and participate in the action if they want to.
Looking back on your career, can you share some projects that have left a lasting impact on you, projects that resonated with you?
TS: Two that have always resonated with me are Palmetto Bluff in South Carolina and Watercolor in the Florida Panhandle. My boss was very focused on landscape and shade and integrating nature. I think what's happened is that unlike the seaside—which is the literal paradigm of new urbanism, which Watercolor surrounds—it's very architecture-first. It's driven by a building design mentality and a rigor to a building code, whereas at Watercolor, the interconnection of parks and open spaces is the big idea. Palmetto Bluff also does that on another level–all the architecture tucks in and under the trees, and that has been an amazing thing to see evolve over the years, and it continues to be a place that just gets better over time. These two have resonated with me mainly because they integrate large-scale and think about ecology and the environment. Then, in a fine-grained way, they work their way down to a home-integrated nature. I think Yerba Buena Island is a slightly higher-density version of that. I can't overstate the integration between a landscape-minded approach to planning and site design and architecture.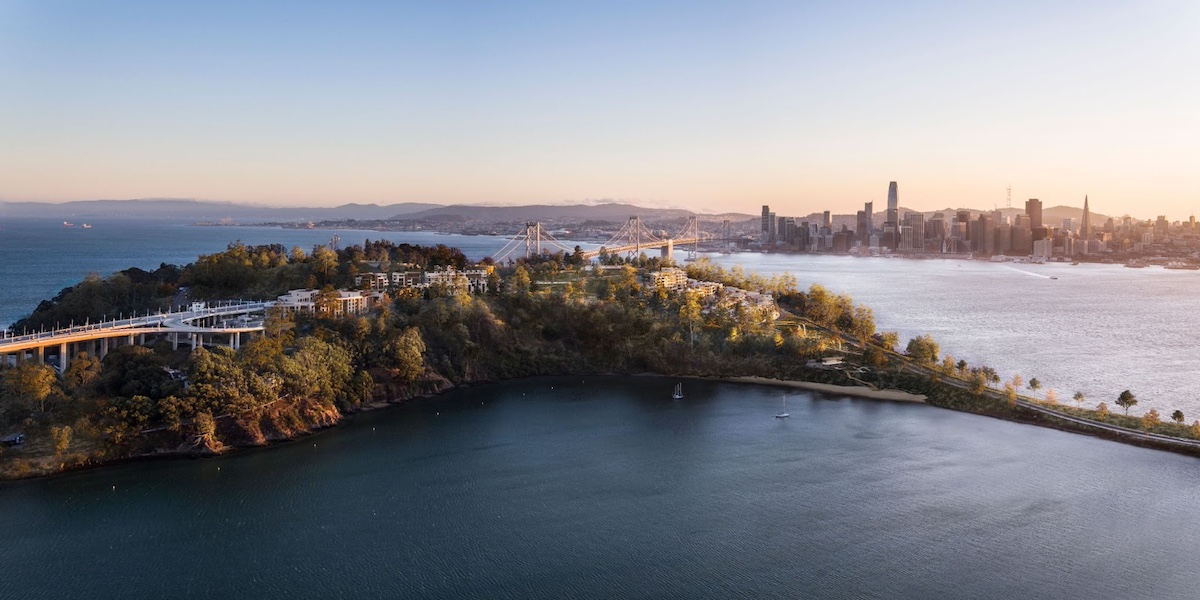 Can you describe the first time you set foot on Yerba Buena Island and what made it stand out to you?
TS: I've lived in San Francisco for 23 years, and the first time I walked out there was in 2016. When I got up to the top of that hill where Point of Infinity is now, I looked out and took in the view. I've been lucky to work on many incredible places, and this was the most beautiful site I've ever worked on, which is saying quite a bit. It has a view from San Francisco that no one besides the Coast Guard or the military has really seen. When these parks open, they will unveil a view of not only San Francisco but the whole Bay that no one's ever seen. These parks are going to be packed all the time.
When designing the buildings, how did you decide to incorporate all of those amazing views?
TS:Usually, with a condo building, you want to standardize units, but in this case, we worked all the unit designs to capitalize on the views, not only on the outbound side but on the courtyard side as well.
So on the crescent, where you're facing down to Clipper Cove, there's lots of glazing and great views from balconies. We popped out those bay windows so you get this great drama of the Bay on that side, and then in the courtyard, we've put this little Juliet rail. The idea is that it's a quieter space, like how many old European buildings have these great courtyard views.
Also, at The Bristol, you have the Rooftop Terrace, but in the other units, you will also have these beautiful rooftop terraces, which animates the skyline. It's been an indoor-outdoor wrestling match of figuring out unit plans, but it's more about how it optimizes the views.
What's exciting to me about the island is it's going to be a place where people want to invite their friends and family–every single person I've brought out there is blown away by the views.
Hart Howerton has collaborated with Discovery Land and worked on many acclaimed private resort communities. I'd love to hear more about how you approach Yerba Buena Island under this lens or how that influenced the narrative for the island.
TS: I think Yerba Buena Island is very much in keeping with Discovery Land's previous work. The idea was that the center of the design was The Island Club, which Aidlin Darling designed, and I think when that is completed, it will be the life of the place. In the meantime, The Bristol is doing a great job with how the Lobby and the Rooftop Terrace are set up for residents to socialize. Part of the whole Discovery Land mindset is all in the soft programming, so we're optimizing the little overlooks and outposts and places like Clipper Cove and the trail network.
What's your favorite part of the views here?
TS: At the end of every day, you're like, "Okay, time to watch the sunset." Well, there's no better spot to watch it than Yerba Buena Island. I think when you live on an island, you're more attuned to nature around you–way more than when you're just in a neighborhood in the city. The changing weather and the fog surrounding you–Yerba Buena Island is like living in a painting.
Resource conservation is a fundamental aspect of Hart Howerton's work. Can you tell us how this principle was incorporated into The Bristol's design?
TS: The whole principle behind the master plan was to create that hilltop park that Walter (Hood) did, so you're preserving views for everyone in the Bay Area. Views and open spaces are a huge part of a sustainable mindset. When we started the architecture, there were the view cones that maintain the view, so we're always trying to work within the view cones to sustain that. We also animated the rooftops, so when you're looking at it from above, you've got solar and some rooftop terraces. And lastly, as a mindset of how you live, we're bringing some of the natural materials in. Vivian Lee and Meyer Davis brought these great woods and softer materials indoors–they did a fantastic job of bringing the outdoors in.
We're seeing this global shift towards new urbanism, and architecture and design have this more self-sufficient feel to it–how do you see Yerba Buena Island embodying these ideals?
TS: A lot of the really great new urbanist communities I've worked on tend to be in locations that aren't cities–they tend to be in far-flung areas. Yerba Buena Island is literally an extension of San Francisco but in a beautiful masterplan way. Not only Yerba Buena Island but Treasure Island as well will set a new paradigm for how you thoughtfully do urban neighborhoods. Many new urbanist principles are based on walkability and connectivity, and we've translated those principles into a slightly different paradigm where it's more about healthy living. Our firm has worked with the University of Virginia and Mayo Clinic to do research collectively, but effectively, we've broken it down into the nine principles of healthy living, which are embodied in Yerba Buena Island.
Not only are you deeply involved in designing Yerba Buena Island, but you've chosen to call it another home. What inspired you to become an owner here?
TS: My wife and I are about to be empty nesters a year from now, and we have a pretty strong commitment to San Francisco–I don't ever see moving anywhere else. So, for us, it's like the next chapter of living in San Francisco but without kids. Right now, The Bristol is our second home–I go over there on the weekends all the time. I just feel better when I go there. We also like to invite friends and family and others to come and visit and have them stay on the island.
The concept of 'home' is deeply personal and ever-evolving. How do you see the homes at Yerba Buena Island catering to both primary residents and those seeking a second-home experience?
TS: I've met plenty of residents–some who are living there full-time and others who have it more as a getaway, like we do. I think that people who are living there love the peace and quiet–there's a serenity to it. I think that will still stay the case, but it will evolve to be more dynamic. The people that are living there now are kind of pioneering. It's going to go quickly, and eventually, everybody's going to be like, "How did I miss out on this?" I don't think people have yet understood the scarcity. I travel all over the world for work, so when I'm home, I love just to be home, and I always feel like by living in San Francisco, I'm always living on vacation. Yerba Buena Island just takes it to another level.
The collaborative effort involving your firm, Hart Howerton, and Vivian Lee resulted in a cohesive design inside and out. Could you share more about the shared vision and the standout elements that make the design truly distinctive?
TS: Wilson Meany did a great job of pulling together people at the top of their game. I remember we had a session with Aidlin Darling, Mark Davis, and Vivian of Edmonds + Lee Architects, and I gave an overview of the architecture master plan to everybody. It was a moment where everybody was thrilled to be in the room. We collaborate with architects all the time, and we like to set this overall vision, but within that vision, there's a lot of creativity that can happen through individuals, and everybody here really brought their best ideas. Vivian, in particular, has a rich understanding of San Francisco, and she's aware of the complexity of city building. Since she's an architect, she saw what we were doing on the outside and started bringing it inside, particularly in the Lobby. We're very pleased with the way she brought the materials in; it's very dialed in. I think the bathrooms in all the units, not just The Bristol, are as good as any resort bathroom–it feels like a spa.
We keep returning to Yerba Buena Island feeling like a vacation, from the views and sunset to the interiors and bathroom. The vision feels very aligned.
TS: Yeah, people go on vacation to get away from work. I go on vacation to work out, take scenic walks, and have great meals. I feel more relaxed on vacation, and there's no reason not to live like that year-round. That's what we wanted to bring into The Bristol–this healthy living approach. You feel better when you go to Yerba Buena Island. And you never get bored here, like you might on vacation–you can take a ferry and within ~10 minutes go to the best restaurants in the world or even go to a Warriors or Giants game. It's epic that you can engage in city life or retreat to the island. You've got the best of both worlds at Yerba Buena Island. It's way more convenient than people understand.
When you're at your home at Yerba Buena Island, do you use the ferry and walk around the island?
TS: My wife and I will take the ferry over there–you don't need a car at all when you're over there. Even to get down to Treasure Island, we'll take the shuttle. I've got my scooter and my bike, and my hope is never to hop in a car when I'm on the island. Honestly, you want to get out and walk everywhere because of the views, crisp air, and the birds–trust me, you'd rather be walking.
You mentioned that Yerba Buena Island will become a place for people to connect with the Bay. How do you envision this island becoming a hub for people from all around the Bay Area to engage with and appreciate the beauty of the Bay?
TS: Yerba Buena Island will unveil the best piece of land in San Francisco for the public. It's creating a place for people to have joy by being able to understand and be connected to the Bay. The island will draw people from Oakland to Marin and the Peninsula–everybody's going to come here, and they're going to get a complete understanding of the Bay.